The Goan coast in India is one of the popular tourist destinations. The warm Arabian Sea, picturesque beaches, mild climate and reasonable prices attract tourists from different countries. Surfing is rapidly gaining popularity in Goa. Previously, at local resorts, it was only for vacationers who saw ads on the beach. But after the country joined the ISA federation, advanced surfers and even athletes come here actively. Surfing in India is in demand no less than diving, fishing, shore excursions or holidays on the beach.
Features of surfing in Goa
Conventionally, the coast of the state is divided into northern and southern parts. The north is dominated by bustling resorts with a wide range of entertainment and vibrant nightlife. The South is more suitable for lovers of leisure. For surfing in Goa, you can go to any resort, depending on personal preference. All beaches are sandy bottom and shallow at the shore – less than one meter.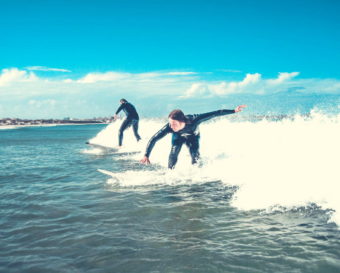 Bring a wetsuit is not necessary – the temperature on the coast all year round is kept at 28-32 °, and the water gets up to 25-27 °. In Goa, surfing is not as popular as in Bali, and there is no crowding. Both beginners and professionals can ride without disturbing each other.
Tourists often wonder how much it costs to surf in Goa. It all depends on the services provided. Inexpensive you can rent a board to ride on the beach. And the cost of tuition each school assigns individually. In some camps training is all-inclusive, while in others you have to pay extra for the rental of equipment or lessons with a trainer. It is recommended to clarify in advance the conditions of the selected school to avoid misunderstandings on the spot.
On average, the price to rent a board starts at 350 rubles, the cost of training from 3000 rubles per lesson.
High and low seasons
The high surfing season in Goa begins in November, when the monsoons recede, and ends in late March or early April. This is an optimal time for amateurs, as well as for those who are just going to conquer the waves, which reach 1-2 meters in height. They are gentle, do not interfere with swimming and allow beginners to work out the technique. This is the perfect time to learn to surf from scratch. Mass influx of tourists during the Christmas holidays in December, at which time it is necessary to book a hotel or a place in school in advance. As the rainy season approaches, the waves increase, and by the end of April already rise above 2 meters.
From May to September, the coast is dominated by monsoons, which bring stormy winds and heavy rains. There comes a time for advanced surfers and athletes, who purposely come to catch big waves and adrenaline. Stormy winds push waves up to 5-6 meters high and create an undercurrent. Surfing in Goa is dangerous for beginners and children during this period.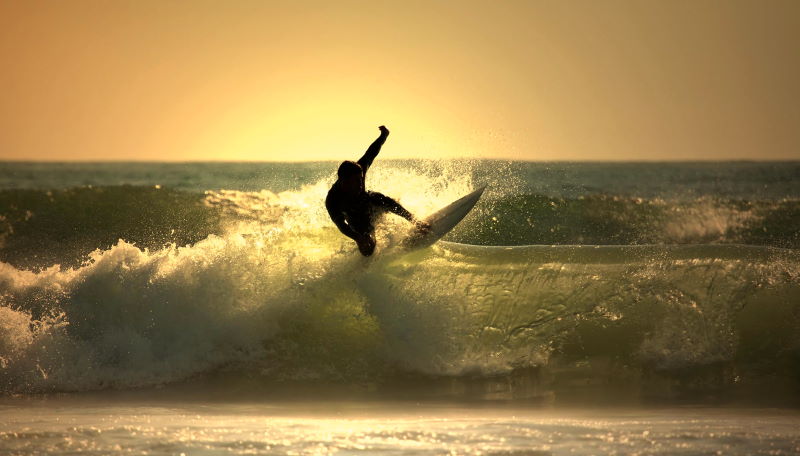 Best spots
A frequent question about surfing in Goa is where best to surf. It all depends on the preferences and training of the tourist. Arambol and Shanti are good for beginners. Future surfers expect obedient waves, picturesque nature, no underwater currents and reefs. On Arambol beach every evening, locals organize dances in national costumes with the playing of Indian instruments and folk songs. The Mama and Kiwis spots also appeal to newcomers. It is not crowded, the waves are small, well-developed infrastructure, and in between training or riding you can swim in the sea and relax on the beach.
In the south of the state, Kovalam Beach is a good place to ride. Here you can ride on their own, renting a board, or train with an instructor. Advanced surfers can really enjoy surfing in Goa at Ashwem and Twin Peaks. There are serious waves, on which you can not just ride, but also to practice various tricks.
Surf Schools in Goa
Surfing in Goa is available to everyone – the resorts operate schools where you can quickly and safely learn how to stand on a board. Training takes place under the guidance of professional instructors. You can buy a full course or pay for a few lessons. The program includes theory and practical exercises in shallow water.
Banana Surf is the best surf school with accommodations and tourist facilities. There is a restaurant with excellent cuisine and regular concerts, exhibitions and other cultural events.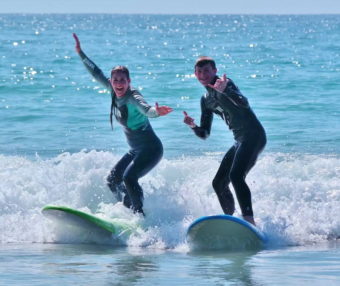 Neptune is a school and camp in Mandrem. The cost of the tour includes transfers from the airport, accommodation, excursions, equipment rental and equipment. After completing the course, all students receive a commemorative photo.
Surf Wala is a surf school with its own bar, massage room, a large selection of comfortable rooms for accommodation. The camp has a rental and sale of boards.
It takes 3-5 lessons to learn how to catch waves and stay confident on the board. After passing the course is enough to get equipment or take it to one of the rental shops, and ride at your pleasure.