Married couples plan trips carefully. Especially if it is a trip abroad. Going to Goa with children, you need to be clear about where to stay, how the food will be organized and other important subtleties on vacation.
In fact, a vacation in Goa is the best thing imaginable for young and already grown-up family members. The warm waters of the Arabian Sea, gentle sun, comfortable beaches and high level of service attracts tourists from all corners of the globe.
Description of the resort
It is not uncommon to talk about the terrible unsanitary conditions on the island. But if you read the reviews of travelers, you immediately realize that this is an exaggeration. Those places, where tourists with children rest, are safe. Indeed, there are certain difficulties with clean water. But buying bottled water will completely save you the trouble.
Choose hotels in the south of Goa, where the atmosphere is quiet, no noisy discos and nightlife. It is realistic to find a hotel on a budget with decent conditions.
Peculiarities of acclimatization
Adaptation to the local climate in children of any age can take a long time. It will last about 10 days. So it makes no sense to stay on the island for less than two weeks. To enjoy the tropics will only be possible with a long stay in Goa. Most often the immune system fails in the form of intestinal disorders. A child, as well as an adult, may experience colic, vomiting, nausea, stomach upsets. Sometimes in the first 24 hours, the temperature rises slightly and the runny nose begins. For such cases, it is better to take medicines from the home first aid kit.
Try to plan a vacation in Goa from November to March. It is best to come here at this time. The searing sun is hardly felt because of the cool breeze. In May or October, there is an increase in winds, so the sea is always waves.
Meals in Goa with a Child
As long as the baby is breastfed or formula-fed, you don't have to worry about nutrition. The only thing better to take from home beforehand are jars of purees, juices and packs of cereal. There is no need to put additional strain on a child's stomach. Almost all hotels and decent eating places have dishes 3+, which are adapted for tourists.
Indian food is rich in spices, especially peppers. Definitely do not offer such food to children. In Goa you will find an abundance of local fruits and vegetables. The variety of bright citrus fruits is sure to make children indescribably excited.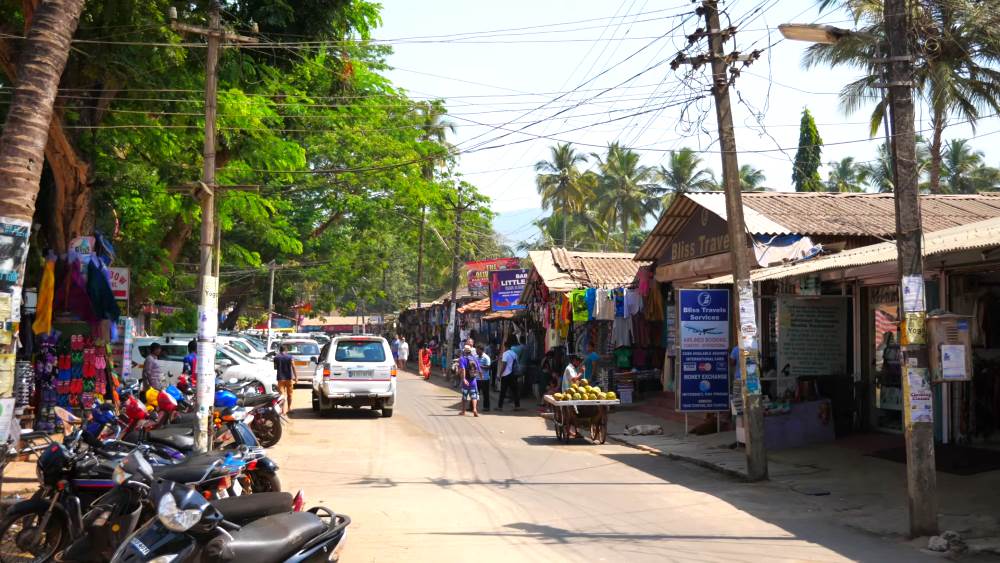 You cannot buy meat products at the market or in supermarkets. Judging by the reviews of former guests of the island it is not very tasty and dangerous. As for seafood, there is plenty. If you're sure of the cooking location, feel free to try sea fish, shrimp, or lobster. To go to the ocean and not taste seafood is strange.
Cafes are open on the beaches offering snacks lured by local cuisine. Buy whatever you want for yourself, but just order juice for the kids.
A decent restaurant offers rice, soups, fruit and vegetable salads, thali, omelets, pita bread with cheese and garlic.
Choosing the beach
Goa's coastline is washed by the Indian Ocean and the Indian Sea. There are places on the coast with a small ford. The water is always warm where the river and sea intersect. Undulation of most beaches is large, so you have to try to find a suitable beach for recreation.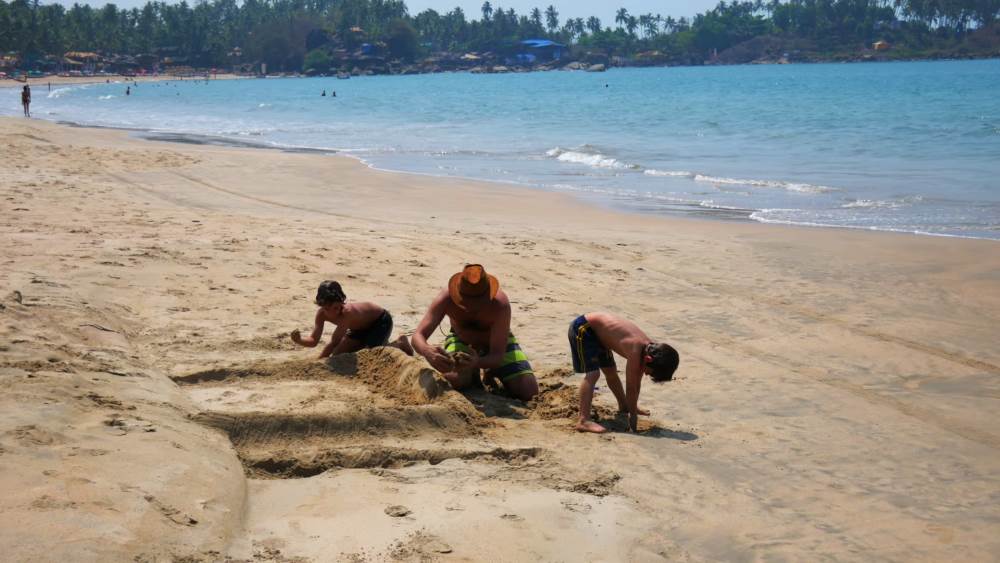 If you do stay in the south of Goa, we recommend visiting Palolem beach, surrounded by coconut palms. It is shaped like a crescent moon, there are never any waves, which means the beach will appeal to young children. South Goa with a child is clean sand and a huge number of activities for couples. Well established places are Majorda, Utorda and Betalbatim, where there are few tourists and much quieter than the beaches of Benaulim and Colva.
North Goa with children will not upset you either. Opt for the beaches of Ashwem, Mandrem and Kandolim. The sand in the north is somewhat darker than in the south, but the water in the sea is still as clean and the sun is healthy.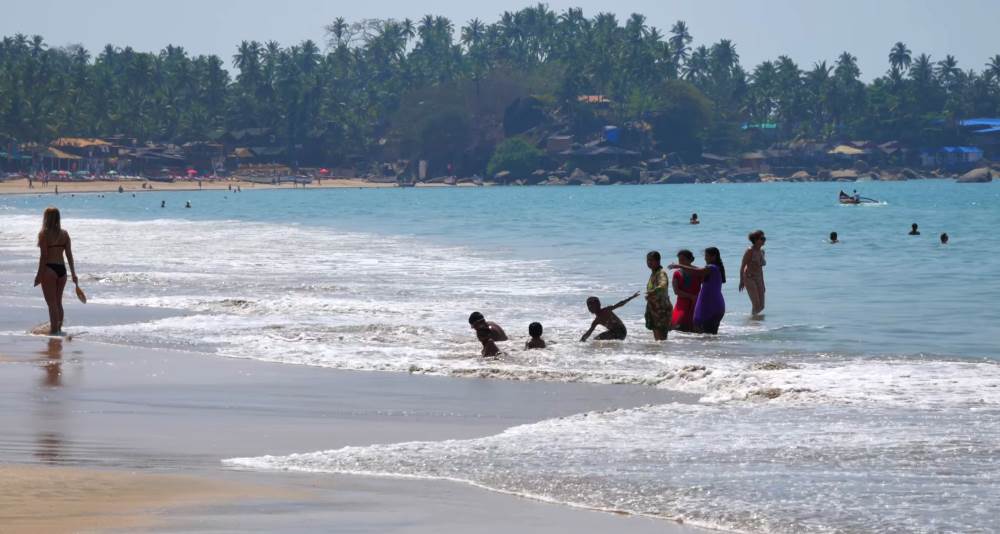 The beaches are cleaned and removed daily, including seaweed and sea rocks. There are places to change clothes and toilets. Be guided by the fact that the noisy beaches are always a lot of beggars, and to quiet places will have to take a cab. Kids will love the abundance of crabs, which are just trying to pinch the tourists on the heels.
Where can I stay in Goa with children?
The locals' idea of comfort is somewhat different from what we are used to. Accustomed to a poor way of life, they often offer tourists very modest and not always clean accommodation. The best option would be to go on vacation in Goa on a tourist package, which involves booking a room at the hotel.
In comfortable hotels on the south coast of the island there are swimming pools, playgrounds with animators, babysitters. These conditions will cost more, but in this case you will be assured of cleanliness and safety of the kids.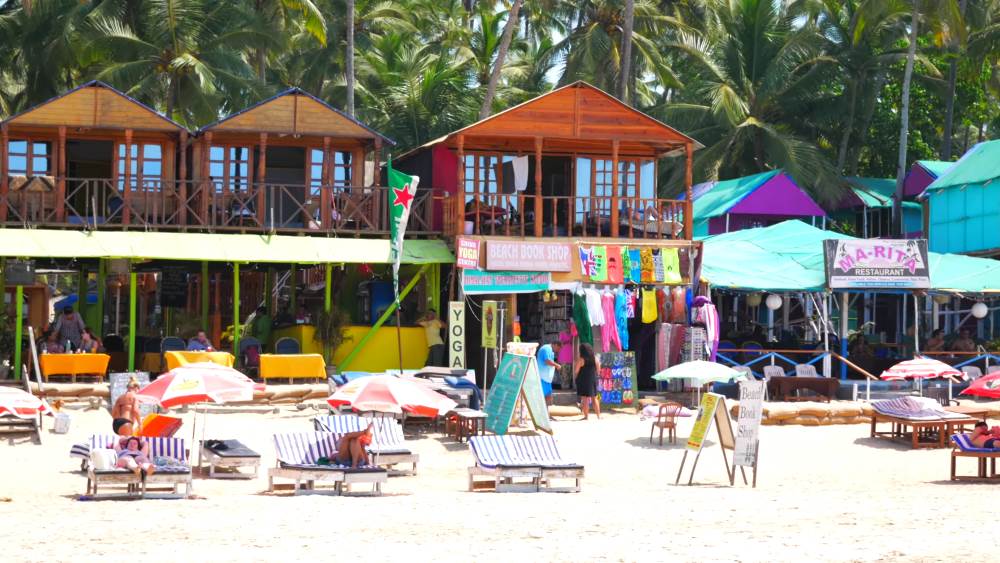 If you want in Goa, you can rent a room or a house on their own, but if you come here with a child, the search will be a little time. Choose rooms with netting on the windows, air conditioning, Internet, refrigerator and kitchen. Make sure the house is not near a driveway or nightclub.
Animals in Goa
One of the frequently asked questions about the island from parents is, are there insects and street animals in Goa? In early November, it is not uncommon to see flying cockroaches. They are not dangerous for people, but an unpleasant sight. Mosquitoes become more active in the evening as darkness falls. A proven repellent will protect your family from bites.
Dogs and cows often roam the streets of the resort. At the same time, the horned ones don't touch or distract anyone, and seem to be following their planned route. Sometimes you can meet curious monkeys, squirrels and small snakes.
Where to go with the kids?
If going to the beach, swimming and water activities are already bored, there are alternative types of recreation with children. Make time to visit the water park in Anjuna or the nature reserve in Katigao with its unique Indian elephants and crocodiles. Older kids will enjoy exploring the ruins of ancient forts or the aviation museum. It is also interesting to see the planting of ancient Banyan trees hanging high from the sky.
By the way, don't forget that the people of India love yoga. Go to places that show simple poses for beginners and buy memorable souvenirs.
Doubting whether to take children to Goa? You shouldn't! Get a lot of impressions as a family and come back with positive emotions after your vacation.
Video tips for holidays in Goa with children